First paragliding sensation (waggas flight)
Paragliding baptism suitable for everyone
Waggas flight in two-seater paraglider
Offered in two versions of 10 or 20 minutes, this formula, both dynamic and entertaining, skilfully combines moments of peaceful flight, similar to those of discovery flight, with dynamic maneuvers (tight turns, rapid climbs, passages close to the ground) , while being safe with an experienced pilot.
These adrenaline-filled moments are balanced by explanations from the pilots, allowing passengers to better understand how the paraglider works, flight techniques, and the weather factors that influence their experience.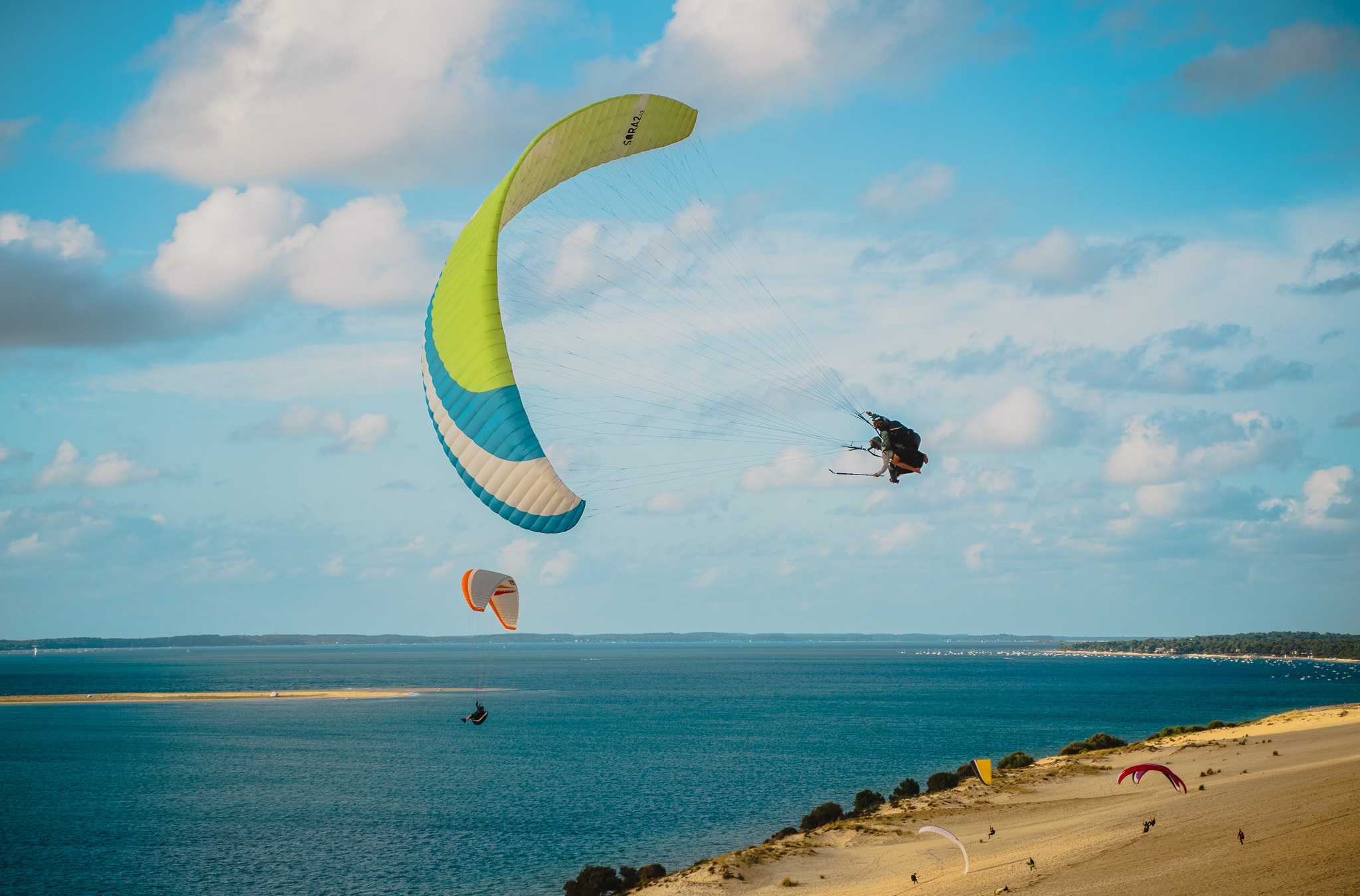 These sensational tandem paragliding flights are intended for people looking for an experience that is both dynamic and exciting. They offer a unique opportunity to live a unique and atypical paragliding experience while enjoying the adrenaline rush that aerial maneuvers provide.
They are accessible to a wide audience, from curious beginners to amateurs looking for unique sensations in paragliding, and are an extraordinary way to discover the joys of free flight on this unique site.
The Waggas flight, named in honor of our school, has been our specialty for over two decades. It is the quintessence of our region, the site lends itself admirably to this experience: the Dune du Pilat and its constant winds offer an exceptional playground for learning about the pleasures of Waggas.
Our other types of paragliding flights
If you want to experience a calmer and more contemplative option, you will be seduced by our discovery flight in tandem with an experienced instructor. This other flight will allow you to learn paragliding while enjoying the exceptional landscape of the dune du Pilat.
Do you want to know more about our educational paragliding tandem flights?
Waggas School thanks you for your opinions
They came to experience our paragliding flights
Quel moment magique !!! Merci à Gaétan pour son accueil et mille merci à Arnold pour ces 20 minutes fabuleuses dans ce décor de rêve. Une sensation de glisse très grisante dans un canapé en velours. Je vous conseille le vol sensation pour sa vitesse au ras du sable c'est trop trop bien !! Prenez votre téléphone ou votre gopro pour immortaliser le moment et n'ayez aucune appréhension, vous êtes entouré de vrais professionnels. Merci encore et à bientôt c'est certain ?
J'ai participé à un stage de pilotage au mois de mai... Expérience très enrichissante. Je cherchais plus de sérénité et d'aisance dans le vent. Charlie et Harrold se sont adaptés à mon niveau et m'ont aidé à progresser. Je recommande à tous les pilotes quel que soit leur niveau à faire un stage de pilotage avec la waggas school ! C'est le meilleur investissement que j'ai pu faire ! J'y retournerai au printemps prochain ?
Moniteur très gentil Super beau paysage, vol à sensation juste top
Juan Pablo Tomes
25/08/2023
Fantástico regalo para mi hijo de 16 años. Muy profesional todo y un día inolvidable.
Rachel Rousset
24/08/2023
C'était un vol magnifique! Merci à toute l'équipe pour l'accueil. Expérience à faire!
marc triboulliard
22/08/2023
Un super moment. Une équipe au top et qui s'adapte parfaitement en fonction de vos envies. Les enfants ont adorés, ma femme est conquise. Vous pouvez y aller les yeux fermés.
Ruinat William
22/08/2023
A ne surtout pas rater !!! Une immense procuration de bonheur et de liberté. Le team Waggas vous fait partager un leur professionnalisme au cours d'une virée dans les airs. À faire et refaire.
Jimmy JM Habitat 33
22/08/2023
Équipe extra sensations incroyables !!!
Accommodation near our paragliding school
Pyla Camping, perched at the far south of the magnificent Dune du Pyla, invites you to an escapade on the edge of the Arcachon Basin. You will find a range of accommodation to suit all your desires: air-conditioned mobile homes for optimal comfort, luxury lodges for a high-end experience, and pitches for motorhomes, caravans and tents for those who prefer the simplicity of traditional camping. Whatever your choice, the surrounding nature will enchant you.