Paragliding courses
(reserved for practicing pilots)
Established for more than 20 years on the Dune du Pilat (Pyla), Waggas School is THE benchmark for paragliding schools specializing in wind piloting. Located on a unique site with laminar wind conditions, our school specializes in wing management in the wind, learning and perfecting inflation techniques. Our paragliding courses are organized from April to early July.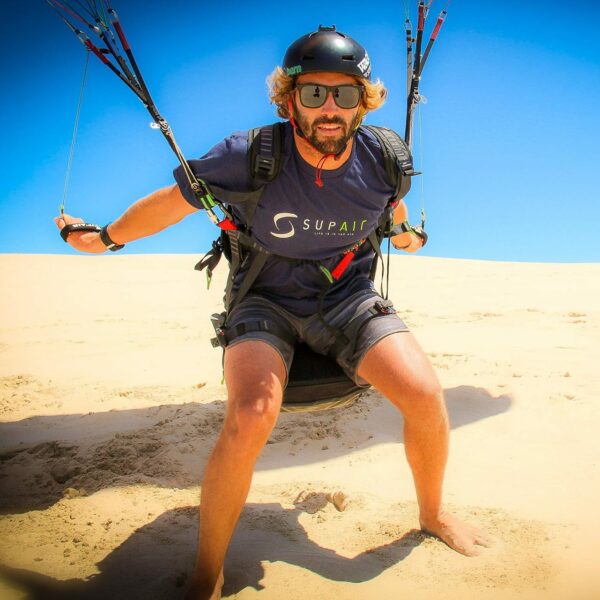 Practicing Drivers Formula
Who is our paragliding improvement course for?
This course is aimed at pilots immediately after the introductory course as well as pilots who are not comfortable in the inflation phases facing the wing.
Content of our paragliding course
Practicing Drivers Formula
Who is our paragliding pilot course for?
This course is aimed at pilots accustomed to inflation facing the wing and wishing to improve their techniques & understanding on the ground.
Content of our paragliding course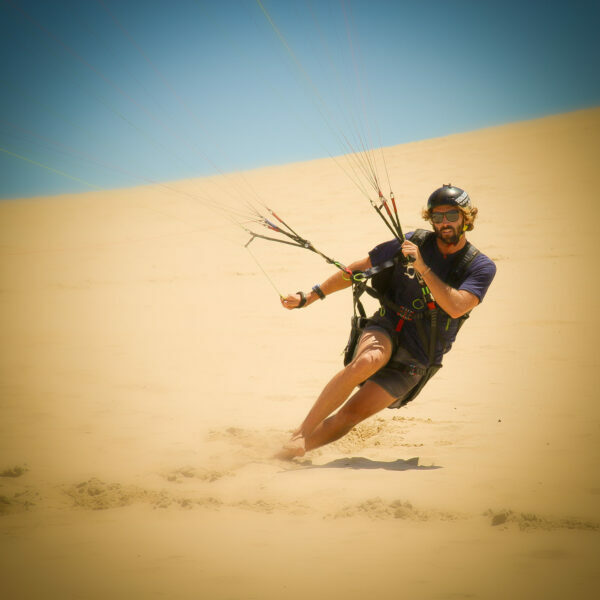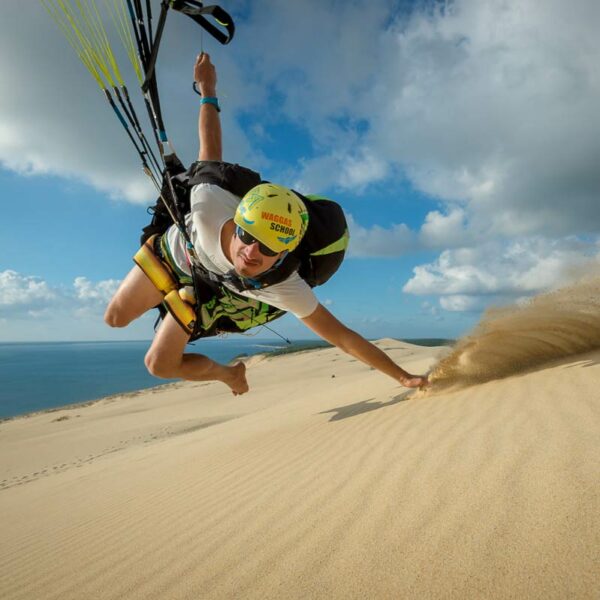 Practicing Drivers Formula
Who is our waggas course for?
This course is aimed at pilots who are comfortable in the wind (inflation phases facing the wing well acquired) and who know how to practice the window edge (= wing on the side with a controlled stroke and trajectory).
Autonomy in the air and good physical condition required.
Content of our paragliding course
Adapted and personalized exercises will be set at the start of each session.
The "practical" part varies between 3 hours and 6 hours over the entire course depending on the wind conditions and the technical and physical level of the pilots.
Video images will be produced in the field to support the debriefing
The exercises carried out and filmed in the field will be debriefed and dissected in an individual and personalized manner.
Theoretical explanations will be provided in addition to the debriefing.
The "theoretical" part varies between 4.5 and 5 hours over the entire course personalized in the room.
They came to try the courses and paragliding at Waggas School...
Quel moment magique !!! Merci à Gaétan pour son accueil et mille merci à Arnold pour ces 20 minutes fabuleuses dans ce décor de rêve. Une sensation de glisse très grisante dans un canapé en velours. Je vous conseille le vol sensation pour sa vitesse au ras du sable c'est trop trop bien !! Prenez votre téléphone ou votre gopro pour immortaliser le moment et n'ayez aucune appréhension, vous êtes entouré de vrais professionnels. Merci encore et à bientôt c'est certain ?
J'ai participé à un stage de pilotage au mois de mai... Expérience très enrichissante. Je cherchais plus de sérénité et d'aisance dans le vent. Charlie et Harrold se sont adaptés à mon niveau et m'ont aidé à progresser. Je recommande à tous les pilotes quel que soit leur niveau à faire un stage de pilotage avec la waggas school ! C'est le meilleur investissement que j'ai pu faire ! J'y retournerai au printemps prochain ?
Moniteur très gentil Super beau paysage, vol à sensation juste top
Juan Pablo Tomes
25/08/2023
Fantástico regalo para mi hijo de 16 años. Muy profesional todo y un día inolvidable.
Rachel Rousset
24/08/2023
C'était un vol magnifique! Merci à toute l'équipe pour l'accueil. Expérience à faire!
marc triboulliard
22/08/2023
Un super moment. Une équipe au top et qui s'adapte parfaitement en fonction de vos envies. Les enfants ont adorés, ma femme est conquise. Vous pouvez y aller les yeux fermés.
Ruinat William
22/08/2023
A ne surtout pas rater !!! Une immense procuration de bonheur et de liberté. Le team Waggas vous fait partager un leur professionnalisme au cours d'une virée dans les airs. À faire et refaire.
Jimmy JM Habitat 33
22/08/2023
Équipe extra sensations incroyables !!!