Book your flight / paragliding course
How to book your tandem flight
The reservation does not require any prior payment, and payment for the service will be made in person on the day of the flight, at the rate displayed on our rates page.
Payment can be made in cash or by check. Note that for payments by check, two pieces of identification containing the same first and last name as well as the same postal address will be required.
You can change the theme of the selected flight (discovery or waggas) when you arrive on the big day.
It is also possible to book for someone else. Just remember to tell us the name of the person who will do their paragliding experience.
As our paragliding activity is dependent on weather conditions, it is possible that your flight may be canceled the day before your appointment by text message and email. In this case, we invite you to make a new reservation from our reservation module at a later date.
Anyone under the age of 18 must be accompanied by an adult, who will ensure their responsibility.
If you have any questions, consider consulting our frequently asked questions or contact us.
How to book your paragliding course
All courses are intended for practicing pilots, Waggas School does not offer introductory paragliding courses.
To book your course, go to our reservation module.
How are Waggas School instructors equipped?
Paragliding is an exciting world, an aerial sport that combines the grace of flight with technical mastery. Here, for the curious, is the equipment needed for this aerial adventure.
Sail (wing): this is the heart of the equipment. It is composed of air-filled cells and a tissue structure.
Harness: this is the harness that will allow you to attach yourself to the wing. It should be comfortable and well-fitted.
Helmet: safety is paramount.
Before each flight, Waggas School instructors carry out a series of checks:
Checking the equipment,
Weather: study of weather forecasts and current conditions. Wind, rain, and temperature play a crucial role in flight safety.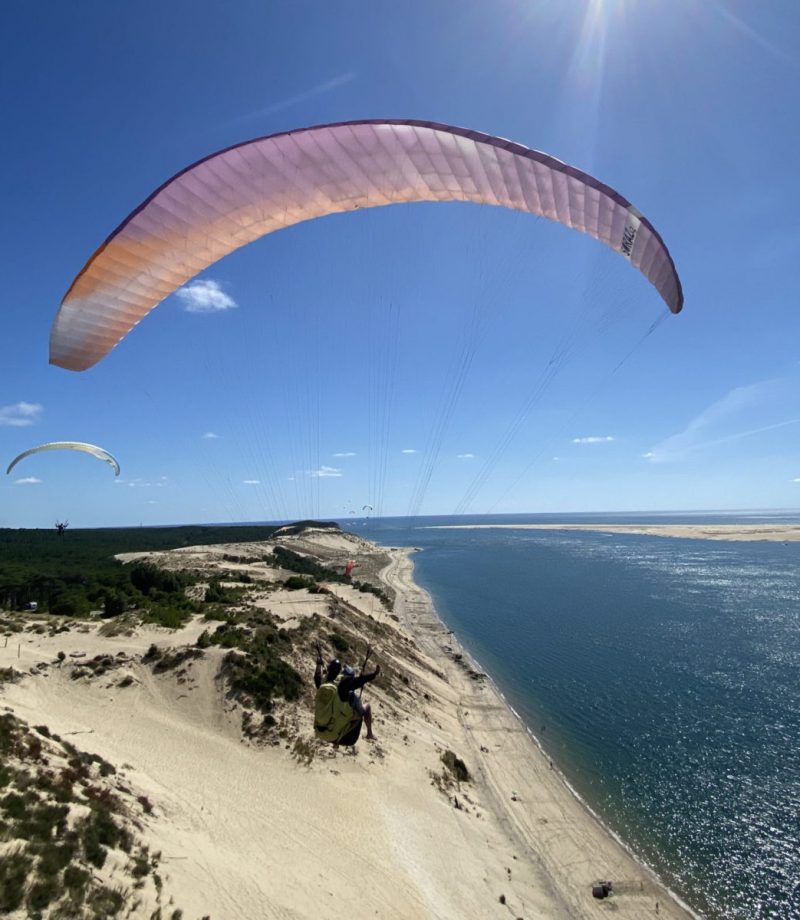 Learn more about our region