Tandem paragliding baptism
Discovery flight
A two-seater paragliding flight suitable for everyone
Tandem paragliding discovery flight
The discovery flight invites you to an experience marked by serenity and contemplation, offering passengers the opportunity to feel the joys of paragliding while letting themselves be lulled by the peaceful beauty of the landscape. This combination creates a unique and memorable experience.
Lasting 10 to 20 minutes, this discovery formula allows you to fly over the Arcachon Bay, revealing a breathtaking view of the Dune du Pilat. This exceptional, fragile and precious place offers ideal flying conditions, making this activity accessible to a wide audience. The gentle caress of the sea breeze, in tandem with our experienced instructors, completes this aerial experience.
Unlike other types of paragliding flights which may be more focused on adrenaline and acrobatics, contemplative flight focuses on experiencing the gentle, calming sensations of flight while allowing passengers to fully savor the scenery which takes place under their feet.
During this flight, passengers have the opportunity to take their time to admire the panoramic views, appreciate the tranquility of the experience and connect with the nature around them.
You also have the option of bringing a smartphone or camera to take your images for free.
Our other paragliding flights
If you want to repeat your experience or try another type of flight, we offer longer packages for thrill-seekers who want to explore the skies above the Arcachon Basin and its surroundings. Whether you are a novice or an experienced paraglider enthusiast, our team of qualified instructors is there to support you and give you an unforgettable adventure in the air.
Join us for an exceptional aerial experience!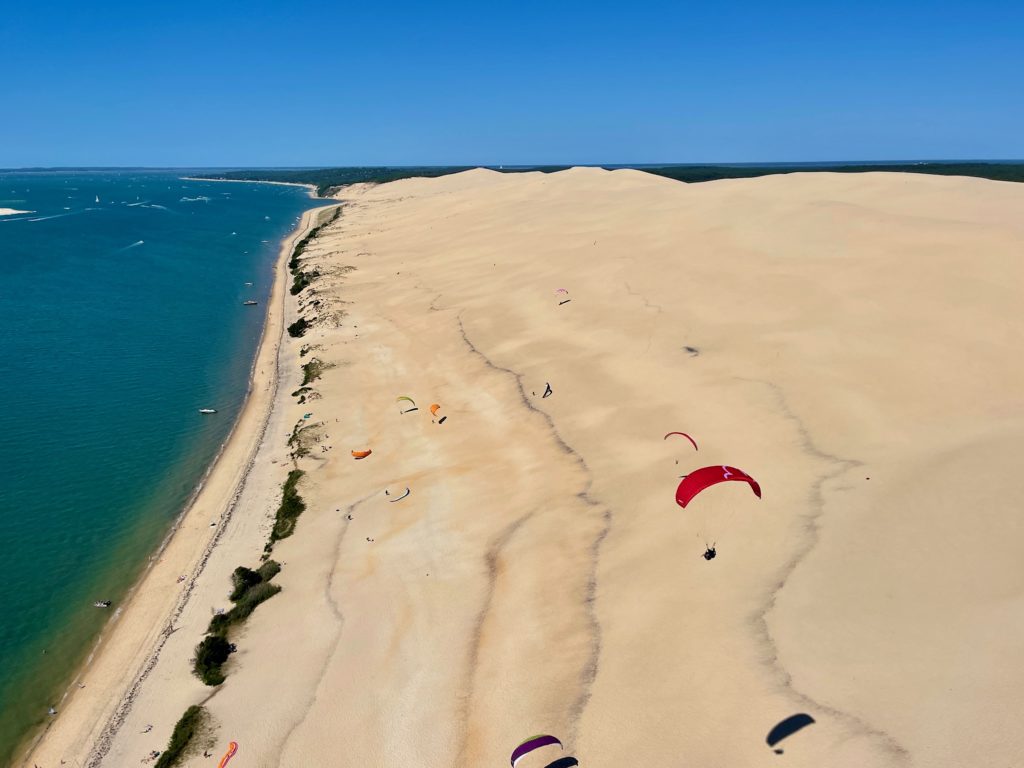 Do you want to know more about our paragliding first flights?
Thank you for your opinions on our paragliding school
They had their first flight in an educational two-seater paraglider
Quel moment magique !!! Merci à Gaétan pour son accueil et mille merci à Arnold pour ces 20 minutes fabuleuses dans ce décor de rêve. Une sensation de glisse très grisante dans un canapé en velours. Je vous conseille le vol sensation pour sa vitesse au ras du sable c'est trop trop bien !! Prenez votre téléphone ou votre gopro pour immortaliser le moment et n'ayez aucune appréhension, vous êtes entouré de vrais professionnels. Merci encore et à bientôt c'est certain ?
J'ai participé à un stage de pilotage au mois de mai... Expérience très enrichissante. Je cherchais plus de sérénité et d'aisance dans le vent. Charlie et Harrold se sont adaptés à mon niveau et m'ont aidé à progresser. Je recommande à tous les pilotes quel que soit leur niveau à faire un stage de pilotage avec la waggas school ! C'est le meilleur investissement que j'ai pu faire ! J'y retournerai au printemps prochain ?
Moniteur très gentil Super beau paysage, vol à sensation juste top
Juan Pablo Tomes
25/08/2023
Fantástico regalo para mi hijo de 16 años. Muy profesional todo y un día inolvidable.
Rachel Rousset
24/08/2023
C'était un vol magnifique! Merci à toute l'équipe pour l'accueil. Expérience à faire!
marc triboulliard
22/08/2023
Un super moment. Une équipe au top et qui s'adapte parfaitement en fonction de vos envies. Les enfants ont adorés, ma femme est conquise. Vous pouvez y aller les yeux fermés.
Ruinat William
22/08/2023
A ne surtout pas rater !!! Une immense procuration de bonheur et de liberté. Le team Waggas vous fait partager un leur professionnalisme au cours d'une virée dans les airs. À faire et refaire.
Jimmy JM Habitat 33
22/08/2023
Équipe extra sensations incroyables !!!
Accommodation close to Waggas School
At the southern end of the superb Dune du Pyla, Pyla Camping takes place in harmony with the beauty of the Arcachon Basin. Here, a variety of accommodation options are available to you: air-conditioned mobile homes for modern comfort, luxury lodges for a refined experience, as well as campervan, caravan and tent sites for those who prefer the charm of the outdoors.